What is the must-have this season?! It is the jumpsuit!
Wikipedia describes a jumpsuit as follows: 'Jumpsuit originally referred to the functional one-piece garments used by parachuters/skydivers, but has come to be used as a common term for any one-piece garment with sleeves and legs.' As you can see on the image above, jumpsuits can also be without sleeves.
There are so many different variation of jumpsuits and as different as the jumpsuits themselves are their prices. Still there are many affordable ones that are also very pretty (Look at ASOS or H&M for a huge selection of jumpsuits). The three blonds on the picture above wearing more pricey pieces. Petite Ashley Tisdale (on the right of the picture) looks stunning in the elegant, white Paige Lace Jumpsuit by Monique Lhuillier. But that has it's price, her jumpsuit costs around $2.000! Miley Cyrus (middle) was seen at The Laugh Factory in Los Angeles wearing the sexy Let's Be Real Jumpsuit by Jhene Aiko for Lovers + Friends, which comes at $160.00. Rita Ora (left) goes Roy Lichtenstein with the Super All-in-One from her latest collaboration with Adidas. The jumpsuit costs also around $160.00 but you can see how different the styles are.
I've picked 10 jumpsuits, I liked a lot and to show you the range of variation that exists. I've listed the prices here as well:
The cheapest one costs around $55 and is by Monki, followed by the jumpsuit by Missguided for $70 and the one by Motel for $81. The jumpsuit by ASOS costs $90 and the one by Free People is with $108 not far behind. Followed by the jumpsuit by Wildfox for $135 and Threefloor's jumpsuit for $208! The second to last place goes to Rebecca Minkoff's suit for $235 and winner far off is the luxury, silk jumpsuit by Valentino for $5.200! Just to show you how high the prices can go and I'm sure that there are even more expensive ones 🙂 I want to state that there are beautiful and very well made clothes by cheaper brands, that also have great quality! I'm a big fan of Monki, for their price range they have a wonderful quality. I also love the the softness and quality by Wildfox for which you'll have to pay a higher price. I haven't had a chance yet to try out Threefloor Fashion and Rebecca Minkoff but I have made good experiences with other brands around that price range (like Moschino, Marc by Marc Jacobs, Rag'n Bone and others). As you might presume I cannot say much about the quality of the products by Valentino, since it exceeds my budget but I hope it justifies the high prices (I really have to try something one when I'm in Berlin or Munich the next time ;).
Have you made any other experiences in case of quality than me? What brand has a good/bad quality? Or do you think luxury items (like the jumpsuit by Valentino) are worth the money? Please tell us your opinions, I really would love to hear it 😉
The Girly!
LA – Attitude Jumpsuit
by Threefloor Fashion
'A refreshing take on an all-in-one piece, this jumpsuit is crafted from raw indigo denim styled with an open strap back for the ultimate in sexy cool. Features include: heavy-duty central gold zip, statement bows at the shoulders and front and back pockets.'  (www.threefloorfashion.com)
---
 The Good Old Days! 
…with flare pant in wave print. The 70's are back, Baby!
by Monki
'This is the answer to all jumpsuit lovers prayers: a crisp, fresh, 90s Rn'B inspired, denim flightsuit with five pockets (front, back and one chest) and a button-down front. Because, let's face it – denim is everything.' (www.monki.com)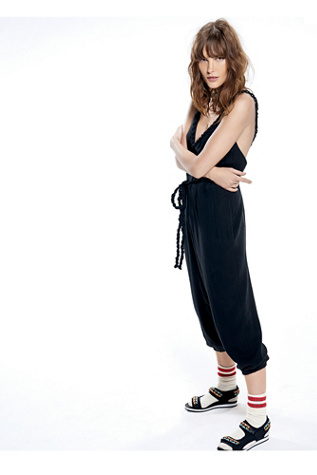 by Free People
'Lightweight gauzey romper featuring an open back with crisscross braided straps that tie around the waist. Hip pocket detailing and elastic cuffs.' (www.freepeople.com)
by Rebecca Minkoff
'Swap out your cocktail dress for this modern silhouette. The v-neck and open back show just the right amount of skin for an understated sexy look.' (www.rebeccaminkoff.com)
---
The Playful!
by Wildfox 
'Wildfox Couture Third Eye Hampton Breeze Onesie, hows it feel to have someone watchin' out for ya? This cozy onsie features a loose fit and a cropped slim leg will have ya feelin' like yer lounging in the Hamptons with all those celebs. Dual front pockets with button closures ensure you'll have room to stash essential stuff on the go. Bae, we def have our eye on yew and so will the whole crew.' (www.dollskill.com)
by Missguided
'We're loving animal prints this season, especially this stunning croc infused plunge navy jumpsuit. The all over croc detail gives a fierce effect and worn with a gold plated belt this piece is the ultimate party jumpsuit. Finish the look with a structured clutch and sky high heels.' (www.missguided.eu)
by ASOS
Dream of a flower field with this lovely piece! Perfect for long walks or relaxing on a summer day.
'Valentino's all-in-one is effortlessly chic. It's crafted from silk crepe, with wide-leg trousers and an off-the-shoulder cut that's complemented by a neck tie. In scarlet red, it'll make a perfect alternative to your evening shift dress.' (www.mytheresa.com)
I hope you liked my post 🙂 Have a great day!
xx Isa